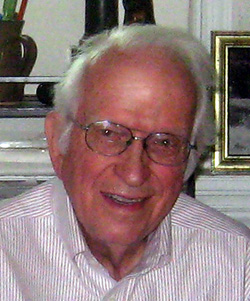 Don Black comes to art from a long career in music that includes performing and teaching as well as conducting symphony orchestras and opera. He is now a Professor Emeritus of music at Shenandoah University. Until recently he was also an active jazz clarinetist.
In 1984 he began painting with oils. Soon he turned to traditional watercolor, studied with several prominent artists, and In 1995 gained signature membership in the prestigious Baltimore Watercolor Society (BWS).
He later turned to acrylics and a more abstract style. In 2008 the George Washington Hotel in Winchester purchased 3 of his abstract paintings as a part of its major renovation. In 2009 the Shenandoah Arts Council (SAC) honored him with a Retrospective of 75 paintings from a quarter-century of his work.
Currently much of Don's creative time is devoted to the use of layering techniques, painting with acrylics on paper, panels and canvas, and experimenting with collage materials.
Inspiration comes from the paint itself, from the activity of painting, from a love of nature and being outdoors, and from regular contact with talented artist-colleagues.
Current representation is through Gallery One in Winchester, ShenArts in Winchester, VA, Art at the Mill in Millwood, VA and The Bridge Gallery in Shepherdtown, WV. Paintings are in collections throughout the United States, as well as in Canada, Germany, France, Spain and the Czech Republic.
Don and his wife Nancy live most of the year in the beautiful Shenandoah Valley of Virginia. They spend summers at Lac Pemichangan , Quebec, a decidedly cooler place. Nature's beauty reigns in both places.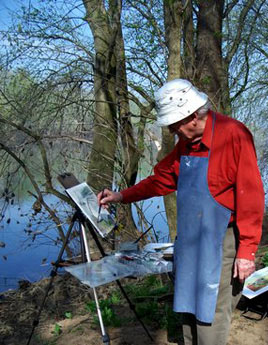 GALLERIES Past and Present

ArtSquare Gallery - Leesburg, VA
Barns of Rose Hill - Berryville, VA
The Bridge Gallery - Shepherdstown, WV
Duvall Designs Gallery - Millwood, VA
East Meets West - Winchester, VA
Gallery One - Winchester, VA
Gallery 222 - Leesburg, VA
The Ice House - Berkeley Springs, WV
Jubilee Gallery - Winchester, VA
Mayer Gallery - Shepherdstown WV
Newman Gallery - Washington, DC
Shenandoah Arts Council - Winchester, VA
Long View Gallery - Sperryville, VA